My Trade Programs Mobile: Enrollment
product strategy, information architecture, product design, user experience design, visual design, usability testing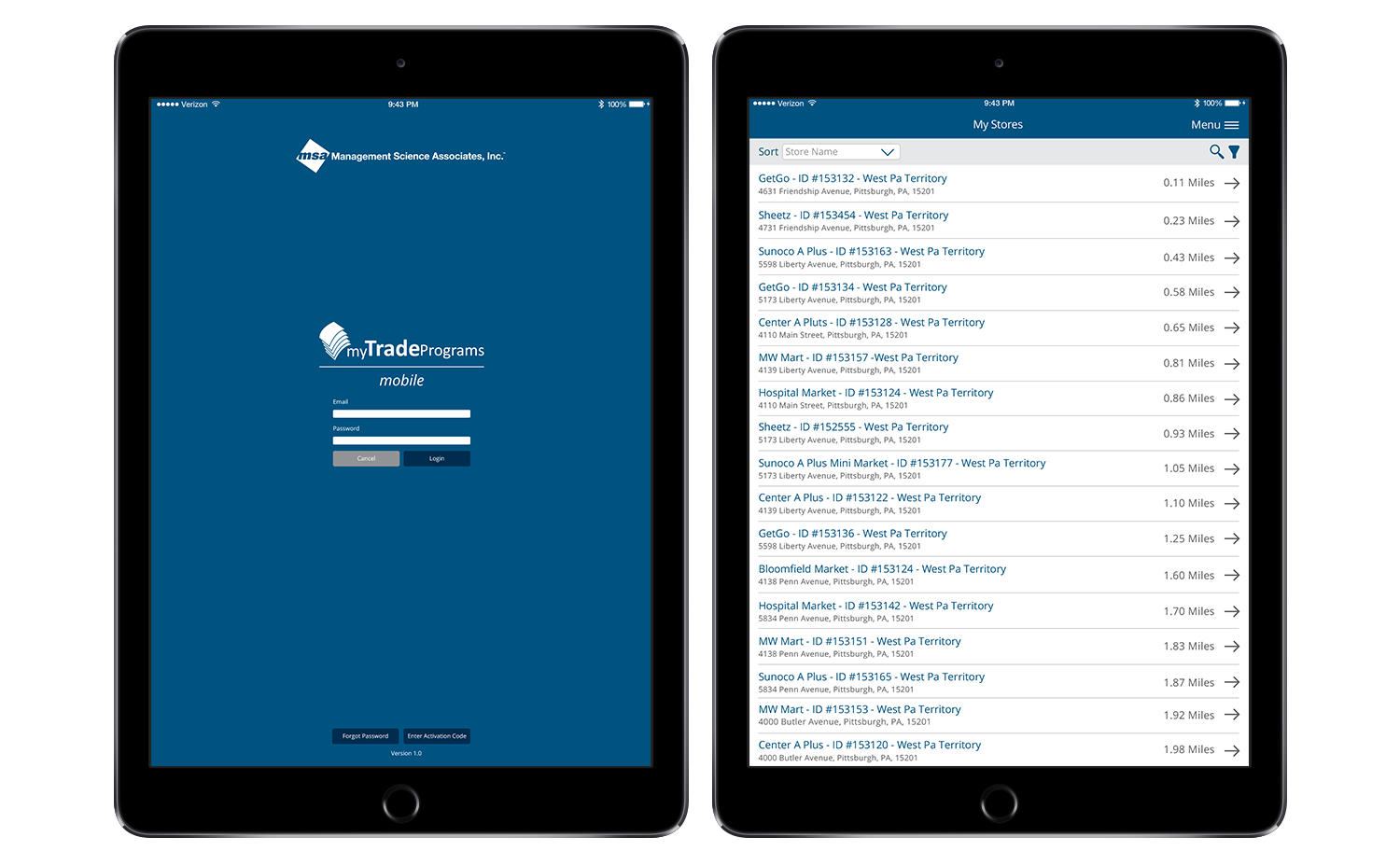 Currently, I am unable to show visuals for this project in public. However, I can show them in person or through a video call.
Client
Management Science Associates Inc. - Information Management Sciences Division
Team Members
John DeGore, User Experience Designer
Allison Hoge, User Experience Researcher
Matt Tamasy, Product Manager
Duration
February 2013 to August 2014

Who is Management Science Associates? 
Management Science Associates (MSA) develops analytical software and information-based systems specializing in business analysis, data management, and IT services. The Information Management Solutions (IMS) Division focuses on services and products for the Consumer Packaged Goods industry. IMS helps Retailers, Distributors, and Manufacturers automate their workflows and make decisions by forecasting outcomes.
Project Background 
IMS manages the rebate payments for Manufacturer Trade Programs. A Trade Programs is an incentive program that Manufacturers offer Retailers. For example, a candy Manufacturer will get a Retailer to carry a new product they want to test by giving them a rebate on their most popular products. To manage Trade Program payments IMS needs to keep a record of all the enrollment contracts for each Retailer that signs up.
The catalyst for this project came from the fact that Manufacturers primarily used paper contracts. IMS has a web-based application called My Trade Programs, but Manufactures rarely use it because the interface is difficult to use, it's not available on a mobile platform, and didn't allow for multiple stores in a contract. So, IMS employees end up managing and processing enrollments contracts by hand. That requires a lot of personnel hours, which is expensive. It's also a process that is very prone to errors. Since the contracts are usually filled out in a rush, the legibility varies. Making it hard for personnel inputting the contract information to decipher. Another obstacle is that contract forms don't account for multiple stores. So a large list of stores will be sent along with the contract to include in the enrollment, and the majority of these lists are written by hand, leading to more legibility issues. The My Trade Programs Mobile application was developed to alleviate these problems by creating digital versions of enrollment contracts that could be filled in on an iPad and requires no MSA personnel to input it or interpretation of handwriting. This solution would help cut personnel costs for IMS and create fewer errors.
Process
Stakeholder Interviews & Contextual Inquiry 
I interviewed internal stakeholders such as Client Service personnel and the Product Manager to learn about the users, Field Sales Representatives, and the client expectations. To get a better understanding of the variety of manufacturer contracts and their complexities, I shadowed personnel responsible for the data entry of contracts. I observed their process of entering the contracts. Between the interviews and observations, I had a clear view of the requirements. I modified the existing requirements as needed and added new ones to best service the role of a Field Sales Representative.
Iterative Design
I started out by taking the requirements and creating a set of wireframes that provided the general flow and feel of the app. Then I had a review session with Product Manager. He identified areas of the design he saw as a problem and then we would work together by sketching out potential solutions on a whiteboard. When we came to a consensus, I would update the wireframes to reflect the changes. After going through that process a few times the wireframes were presented to all the Stakeholders.
In the first stakeholder review, the engineers pointed out an issue with the design for the contract sections. A contract would have JSON file that would be read by the app making it easy to change. What I designed was going to be too challenging to build utilizing a JSON. Since some of the code in the JSON file would be used to the create visuals of the contract.  So, I changed the design to make it easier to implement by playing to the strengths of the JSON format which in this instance utilized tables. Then, I updated the wireframes and reviewed them again with all the Stakeholders. When all Stakeholders were in agreement on the design usability testing started.

Allison Hoge, another UX team member,  and I worked on creating the protocol for the usability test. Then Allison built an HTML & Javascript prototype based off of the wireframes that used the testing tool called Loop 11. Using Loop 11 allowed the tests to be completed independently by provided analytics based on task. We still set up sessions to observe the actions of test subjects through video calls. So, we could see it first hand. We conducted three rounds of usability testing. In the first two rounds, we identified failures around naming conventions and affordances for action items. Then we updated the design to incorporate solutions for those issues and did a third round of testing. Through the third round, we learned our solutions worked and released the final design to the development team. I collaborated with the development team to implement the interface of the app by providing feedback as they built it out.
Incorporating Feedback
Overall the app was easy to use and successful. However, after clients were using it for a few months, we got some great feedback on where to make improvements. For example, we started with a set of seven icons to identify a store's enrollment status. In usability testing, there were no issues with them, but after long-term use with a larger user base, it became apparent they were confusing. So in a later release, the statuses were simplified, and only five icons were needed. This change garnered a lot of positive feedback.  We incorporated a few other feedback items over the first year of the app to help improve the product.
Conclusion
The MTP Mobile app has been a successful product for IMS. After the first year, more clients started to use the application for their Trade Program enrollments and the division has seen a significant drop in personnel hours related to the Trade Program contracts and payments. The application is also the template for a redesign of the My Trade Programs web application. A new feature focusing on ordering has been added to the app to help Sales Reps, and there are plans to incorporate a Trade Program compliance feature in the future.